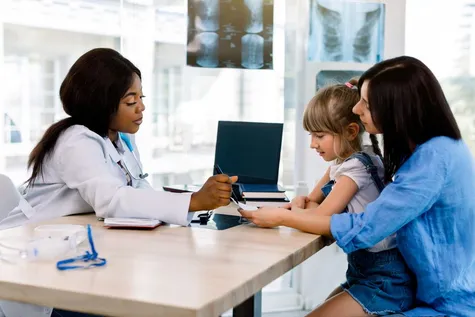 Thank you for choosing Peds in a Pod Pediatrics as your child's medical home, where we always provide a comfortable, caring environment so our patients and their families can feel at ease. We've included helpful items on this page to ensure you and your child's first trip to our office is productive, stress-free and enjoyable. To understand what to expect for your child's first visit to our practice, please read through this page.
Mission Statement
Our mission is to promote wellness to infants, children, and adolescents by empowering self and parental advocacy and autonomy through anticipatory guidance. We strive to provide personalized professional care. We are a small, private practice who aims to maintain our intimate approach to patient care by consistently providing our patients with compassion, excellence and value. Remember, we are always just a phone call away!
insurance cards

complete immunization records

medical records from your previous pediatrician

legal guardianship or custody papers with seal
Patient Forms
We are happy to provide our office forms for convenient download on your home computer. Please print and complete the forms below, and bring them with you to your child's first appointment. Questions about which forms you need? Please call our office and our courteous staff will assist you in preparing for your child's first visit.
In order to view or print these forms you will need Adobe Acrobat Reader installed. Click here to download it:
The Initial Visit
Peds In A Pod Pediatrics welcomes new patients to our safe child centered environment. Our staff recognize that choosing a Pediatrician will be one of the first decisions parents will make for their children. We do whatever it takes to make every visit to our office a pleasant, relaxed experience. With all of the important information about our practice available on our website, you can feel confident that you and child are well-prepared for your first appointment. We also invite you to review our staff page in order to get to know our doctors and staff. We look forward to meeting you. To assist us with our mission please arrive 15 minutes early.
Ear Piercing
Exciting news! We offer ear piercing services by our Pediatrician to our established patients. Ear piercing services include special medical grade earrings and a personal cleaning kit. We take VISA, MASTERCARD, DISCOVER, and cash. Ear piercing is not covered by health insurance. Ear piercing by appointment only.